Meet the Grand Rapids Aquatics Coaching Staff: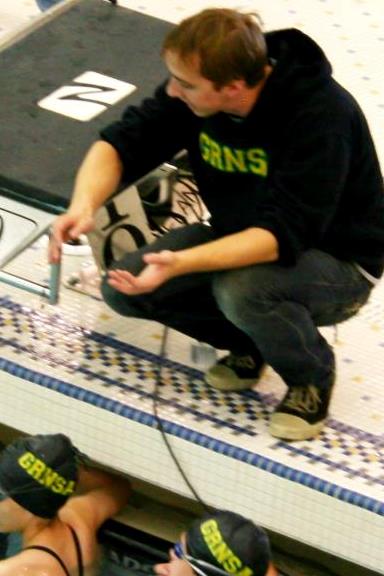 COACH ALEX BRINKSHEAD COACHGROUP(S):
Gold, High School & Black Groups
PHONE:
(616) 634-2044
OFFICE HOURS:
Mondays-Fridays (11:30 am. - 2:30 p.m.)
EMAIL:
CoachAlex@grnsa.org
Alexander Brinks joined the Grand Rapids Aquatics coaching staff in January of 2011. His primary objectives are to help age group swimmers to develop as young student-athletes and to provide children living in the South Grand Rapids area with preliminary exposure to the sport of swimming.

While in high school, Brinks taught swim lessons for Hudsonville Public Schools from 2002 to 2005. He spent the next four years swimming and studying at Oakland University (OU), and from 2005 to 2008, Alex was a lifeguard and swim lessons instructor for the Oakland University Rec Center throughout the school year and for Grand Rapids Parks and Rec during the summer time.
In 2009, after graduating from Oakland with a B.A. in English, Alex began coaching and substitute teaching for Grand Rapids Public Schools. During the 2009-2010 school year, he assistant coached the Ottawa Hills High School girls and boys teams and also coached the West Michigan Masters group at Grand Rapids Community College.
From 2010 to the present, Brinks has been the head coach for the Ottawa Hills High School girls team. He head coached the South Middle Schools (Alger, Gerald R. Ford, & U-Prep Academy) co-ed swim team from 2010 to 2014. He is an ASCA Level 2 coach and lifeguard instructor. From 2010 to 2011, Alex has also worked as a pool supervisor at the Salvation Army Kroc Center and an assistant manager at Martin Luther King Park.
A native to West Michigan, Alex was born in Grand Rapids and grew up in Hudsonville. He started swimming at seven years old with the Hudsonville Dolphins & Jenison Wildcats Community Swim Teams. Brinks went on to swim for West Michigan Swimmers (WMS), Hudsonville High School, and Oakland University. In his 16 years as a competitive swimmer, Alex has been an age group state champion, high school All-American, and earned Academic All-Conference honors all four years in college.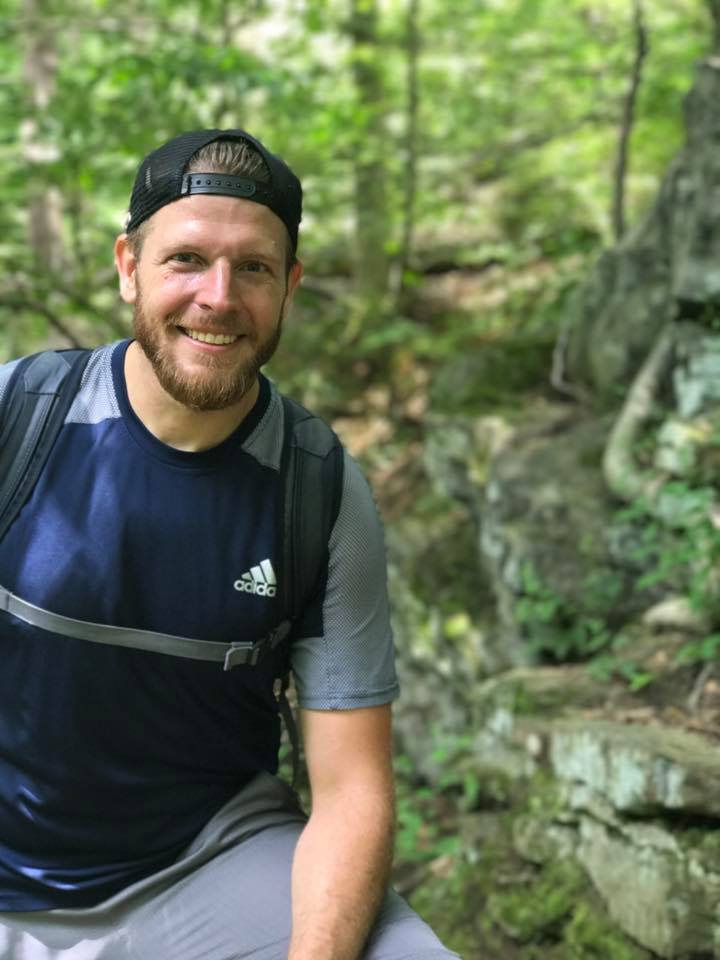 COACH DAVE CARSONLEAD AGE GROUP COACHGROUP(S):
Blue & White Groups
Dave joined Grand Rapids Aquatics in the Summer of 2020 as the lead age group coach. He grew up in Plymouth Michigan, Swimming for PCC and attending Plymouth Salem High School where he was a varsity swimmer and team Captain.

Dave began coaching in 2000 as a Junior in High School working with his former middle school team as a volunteer coach. After High School Dave became a swim instructor for Canton Township while he pursued a degree in early childhood education before ultimately deciding his true passion was in coaching. In January 2006 he became a USA Swim coach a year later was hired as the head coach for Walled Lake Central Men's and Women's Swim & Dive programs where he was the 2008 M.I.S.C.A. Zone 3 Coach of the year.
In 2008 Dave moved to Grand Rapids with his wife Lindsay and found work as the lead age group coach for Rockford Riptide (ROCK) where he remained till 2012 when he joined East Grand Rapids Aquatics (EGRA) as their lead age group. Dave had the privilege of being selected as a 2013 and 2014 Michigan Swimming Zone & Quad Meet Coach.
In 2015 he joined the coaching staff at Grand Rapids Catholic Central as the Women's assistant coach and eventually became the Head coach where he helped guide the Lady Cougars to their first MHSAA Division 3 State Title in 2015.
After 2016 Dave spent 4 years in Philadelphia. During that time, he started a master swim program at the Sporting Club in Center City Philadelphia and dove headfirst into the brewery life as an assistant brewer and brewery manager with Urban Village Brewing Co. In 2019 both Dave and his wife Lindsay found themselves being called back to Michigan. On June 1st, 2020, they made the move back home and that June Dave started his journey with Grand Rapids Aquatics.
Dave has been a Level 2 ASCA certified Coach since 2013 as well as a Certified Member of the Positive Coaching Alliance. During his 14 years of Coaching, he has had the privilege of helping swimmers compete at Zones, Sectionals and NCSA Championships as well as going on to compete at D1, D2 and D3 NCAA programs.

COACH AMBER HORNECKERASSISTANT AGE GROUP COACH & SWIM LESSONS COORDINATORGROUP(S):
Green Group, Black Group, Stroke School & Swim Lessons
PHONE:
(616) 325-5088
EMAIL:
CoachAmber@grnsa.org
Coach Amber began working for Grand Rapids Aquatics in May of 2012 as a swim lessons instructor. She loves working with the swimmers and growing the experiences available to all children. Amber was born and raised in Wyoming Michigan. She raced competitive age group swimming for the Wyoming United Swim team based out of Godwin Height's Pool until the team was disbanded.
A few years later, Amber was in the school Phys. Ed. Building and heard noises coming from the Pool Deck. Curious to see what was happening, she wandered onto the pool deck finding a new home swimming with and working for GRNSA (now GR). Through the years she has grown her experience, coaching two seasons for the Grand Rapids Gators, three seasons for West Catholic High School girls, and now coming back to work as a swim lessons coordinator and assistant age group swim coach for GR. Coach Amber also coaches for Ottawa Hills High Schools as their girl's dive coach, and Caledonia High School boy's head dive coach and assistant swim coach (5 years).

COACH BRANDEN GRAFASSISTANT AGE GROUP COACH & KENTWOOD SITE COORDINATORGROUP(S):
Silver & Bronze Groups
EMAIL:
Branden.Graf@kentwoodps.org
Coach Graf joined the Grand Rapids Aquatics Coaching Staff in 2021. He was born and raised in Kentwood and attended Kentwood Public Schools K-12th Grade. First Instructing swimming at Sunnybrook Country Club in 2005, Branden continued on to teach swimming lessons at East Kentwood's Pool starting in 2007. In 2012 he began teaching lifeguard classes. Coach Graf began coaching the KPS Middle School Girls Team in 2014, before becoming the Head Middle School Coach for both the Boys and Girls in 2018. Graduating from Calvin University and Thomas M. Cooley Law School, he is a licensed defense attorney practicing in Kent County District and Circuit Courts.

Branden has also worked as the Assistant Varsity Coach for the East Kentwood High School Girls for 2 years. As the K-12 Aquatic Development Coordinator at Kentwood, he has worked to increase interest in swimming among Kentwood students and develop talent and growth for Kentwood's Scholastic Teams. He is both an Lifeguard Instructor (LGI) and Water Safety Instructor (WSI).

Branden started swimming in 3rd grade on the Age Group Swim Team before racing with Kentwood's Middle School and High School Teams earning varsity letters with honors all 4 years. He also played water polo during that time.

Daniel Ejsmont competed as a member of Grand Rapids Aquatics (GRNSA) in Spring and Summer of 2016, before returning as a coach in 2021. He previously attended East Kentwood High School (EK), graduating in 2016, before moving to Michigan State University (MSU) for both undergraduate and graduate coursework. His undergraduate degree, a Bachelor of Science in Chemical Engineering, was completed in May 2020. He is current enrolled in the Master of Science program at MSU for Industrial Mathematics, with an expected graduation in May 2022.

Daniel began swimming at the age of 11 after having been inspired by Michael Phelps at the 2008 Olympic Games. He swam middle and high school for EK with club experience at Kentwood, Jenison, and Byron Center before joining GRA. While at MSU, he swam for the MSU Club Team, and currently serves as the Technical Advisor for the club. Outside of swimming, Daniel serves as a referee for middle and high school level water polo within the state of Michigan.

Daniel continues to learn every day while coaching with GR. He looks forward to learning from other coaches about different ways to teach the sport of swimming to the future generation. Extensive experience as an athlete guides him as he helps develop swimmers physically, emotionally, and intellectually.

COACH ALEC KANDTASSISTANT SENIOR GROUP COACHGROUP(S):
College Group & Gold Group
EMAIL:
akandt@davenport.edu